Membership


Voluntary membership in IHLNA is open to neighborhood residents. Dues support neighborhood activities and advocacy. Membership donation is $10, or $5 for 20-year residents. Please consider an extra donation of $10, $20, $50, or $100 to support IHLNA activities. We are planning to install neighborhood entrance signs in early 2014.
---
Mailing list and FaceBook group signup

The IHLNA has two means of online communications among members.
First is a low-volume email list, moderated by IHLNA president Grant Gelhardt. Grant passes on email that is of interest to the neighborhood in general. The volume ranges from a couple of messages a week up to occasionally three or four in a day.
Second is a FaceBook group. While many people dislike FaceBook, it's the de facto meeting place. Unmoderated, wide-ranging discussions take place in the Indianhead/Lehigh group. The group is "secret" to avoid attempts by unrelated commercial interests to join, and so that we can discuss topics we might not want to share with the world at large.
You can get on the email list by emailing Grant, and you can get on the FaceBook group by "friending" someone who is already a member and asking them to add you. Or just use this form.
---
Fun Stuff

FDOT aerial photographs of Indianhead in 1957!
Neighborhood history and street names courtesy of Hartsfield School.
---
The neighborhood Potluck in the Park is the second Sunday of every month at Optimist Park. Some utensils are usually available, but it's better if you bring your own.
Declining attendance at the potluck led to discussions in early 2011 on how to invigorate it. Read some of the comments here. Attendance has been good since August 2011 -- keep coming!
---
Event photos

Halloween Party 2011

Ansje's Neneland Halloween

Pony rides at the November Potluck in the Park

---
IHLNA Board
Board meetings are convened as needed, not on a regular schedule.
All Indianhead Acres and Lehigh residents are invited to all IHLNA board meetings. Meetings are announced by email (not on Facebook). To get on the email list, see above about mailing list signup. Due to the irregular schedule, meetings are not listed here.
---
---
Neighborhood Safety Info
---
Nene Fest 2010 is over!
See the Nene Fest Children's Chorus on Youtube!

Visit the Nene Fest participatory photo gallery and submit your Nene Fest photos!
---
Nene Fest 2009, our first neighborhood festival, was a great success! Check out:
Photos by various participants
The Tallahassee Democrat ran an article about Nene Fest, but they've moved it to for-pay archives.
---
Halloween 2009 Neighborhood Party!
---
Indianhead/Lehigh Mobility Plan
Neighborhood Planning Survey Results
Upcoming Nene Fest
Save the date: Nene Fest 2014 will be held May 3.
Nene Fest activities in the afternoon and evening will include food, music, festival T-shirts, children's activities, and more. First thing in the morning is the Nene Fest 5K Race and 1 mile Fun Run. Registration gets you a tote bag with race logo (while supplies last) and optional reflective safety vest with race logo. Proceeds will support activities at Hartsfield Elementary School. If you don't want to race, you can still register to get a vest, or just donate to the cause.
The popular Nene Fest t-shirts will return! Our neighborhood artist Charity Myers has created a new design (right) for 2014. We expect to sell t-shirts in advance and at the Fest; details TBA. We also expect to sell 2014 posters and a limited supply of T-shirts and posters from previous years; details also TBA.
Upcoming Neighborhood Yard Sale
April 19 (Saturday), Optimist Park, 8:00 AM to noon.
The annual IHLNA Yard Sale will be held April 19 in the morning (8-12). Bring your stuff and your setup (tables not provided). No fee for IHLNA members to sell; others pay $10 (at the park on the 19th). If you live in the neighborhood but are not an IHLNA member and plan to sell, you might want to join in advance–see Membership at left. IHLNA will advertise the sale in the Democrat and on Craigslist.
Other upcoming neighborhood events
Apr 13 (Sun): Potluck in the Park 4:00 (winter time, since evenings can still be cool in April).
April (Sat): Neighborhood Yard Sale, see above.
May 3 (Sat): Nene Fest 2014, see above.
May 11 (Sun): Potluck in the Park 6:00 (summer time).
June 8 (Sun): Potluck in the Park 6:00 (summer time).
July 13 (Sun): Potluck in the Park 6:00 (summer time).
---
Past event: Nene Fest 2013

Nene Fest 2013 was held on Saturday, April 27th, 2013, from 3 to 9 PM, at Optimist Park.
All the information below is now historical.
---
We hope you can attend! We have an exciting festival planned, including music, food, art, crafts, kids' activities, and giant puppets. We'll be selling T-shirts and posters with Nene Fest designs.
Food at 5:00
We'll be selling dinner and desserts. Serving starts at 5:00 and ends at 8:00 or when food runs out. Based on past experience food probably will run out, so don't wait until the last minute!
Dinner consists of lasagna (choice of turkey, vegetarian, or vegan) with salad and bread, at $5/plate. The lasagna is catered by New Leaf Market and the bread and salad are contributed by neighborhood residents.
Desserts, contributed by many of the great neighborhood cooks, are individually priced.
Disposable plates, flatware, and cups will be available, but we encourage you to bring your own non-disposables.
Any money made on food sales will be used to offset the cost of putting on Nene Fest and other neighborhood events.
Musical Lineup
| | | |
| --- | --- | --- |
| 3:00 | Guitars in the Park | Neighborhood folks who often play in the park. |
| 3:45 | Russ McGuff | Familiar tunes in new ways. |
| 4:30 | The Bothys | Traditional and contemporary Celtic/Folk with guitar, mandolin, banjo, drums, hammered dulcimer, whistle, flute, voices, and fiddle |
| 5:15 | Cows Don't Care | Lonesome ruminants playing music to graze by |
| 6:00 | The Teeny Nenes | Neighborhood kids ages 5 to 17 playing together for the first time just for Nene Fest |
| 6:30 | Puppet Show | Brand new narrated script with giant handmade puppets and neighborhood musicians. Only at Nene Fest! |
| 7:00 | John Sheridan | Guitarist/vocalist plays pleasing classics |
| 7:30 | Quanta | Duo playing eclectic mix of music, including original compositions, Americana, jazz and blues |
| 8:15 | Mark Russell | The Funky Violinist, everything from Purple Rain to Bach |
T-shirts and posters (3:00 to 8:00)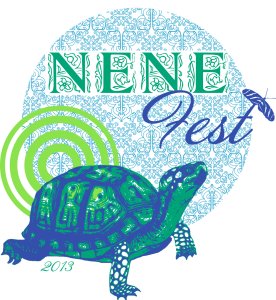 The popular Nene Fest t-shirts will return! Our neighborhood artist Charity Myers has created a new design (right) for 2013. We will also sell 2013 posters and a limited supply of T-shirts and posters from previous years. T-shirts and posters will be on sale 3:00 to 8:00, but shop early for your choice of size and style.
| | |
| --- | --- |
| Adult 2013 T-shirts | $15 |
| Child 2013 T-shirts | $10 |
| All vintage T-shirts | $5 |
| Posters 2013 | $5 |
| Posters vintage sets | $10 |
| Buttons | $1 |
Activities
We have some great activities planned. Details TBA.