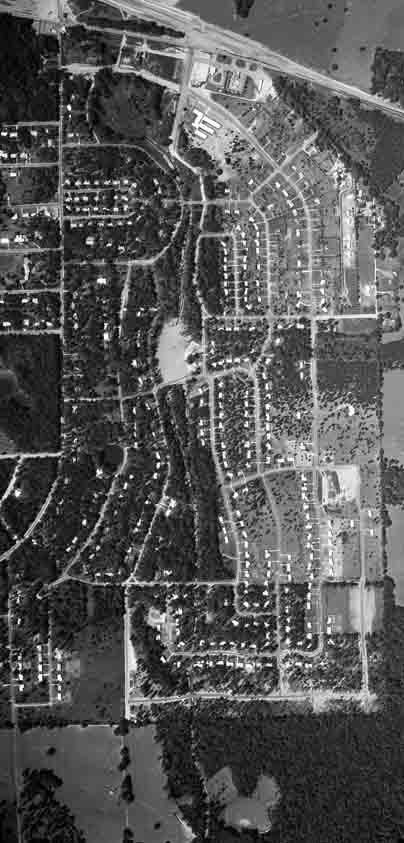 Florida DOT has historical aerial photographs online. The image to the right is of the Indianhead Acres area in 1957. For more detail, see the three-times-more-detailed image and the nine-times-more-detailed image. The latter is still only half the resolution of the image I downloaded from FDOT.
Here are some observations about the aerial photo. (You'll need to look at one of the more detailed images to verify these.)
The western side was nearly as wooded as it is today, though not quite. The eastern side, though, was a great deal more open. Many yards on the eastern side were completely bare of trees, or had only a couple of small trees.
Most roofs were completely visible from overhead. (By contrast, today very few are fully visible, and many cannot be seen at all.) Most of the creek was easily seen from overhead. (Today none of it is visible.) The creek area shows what I interpret as signs that it had recently been "adjusted" with bulldozers, probably to narrow and straighten the channel.
Most of the roofs were bright in these black-and-white photographs, but some were dark. I'm not sure what this says about construction materials used.
What is now the open part of Optimist Park was still a lake. At least that's my interpretation; it looks like reflection from water. I'm confused though because other bodies of water (such as the pond on Atapha Nene) show up dark, and the Optimist Park area is light. Possibly this is right after the lake drained and before vegetation started growing on the former lake bed.
The Parkway Shopping Center had not been built, but it looks like the site is under construction. Apalachee Parkway is under construction, probably being four-laned. Hartsfield School had already been built.
The majority of houses in Indianhead Acres had been built, though several blocks are still almost empty. Chowkeebin Court was just a driveway. Several small streets didn't exist, but all the major ones did. Brentwood (the 2200-2300 blocks of Atapha and W Indianhead) had only begun being built up. Lehigh did not exist in any form.
Jim Lee Road did not extend south of Mountbatten Rd, or at least was only a small dirt road. No part of Blair Stone Rd existed -- I cropped that area out of the photo but it's on the image from FDOT.
Most existing roads and intersections within the neighborhood had exactly the same alignment that they have today.
It's really apparent that the standard driveway was the two strips of concrete which some houses still have. In 1957 those double strips shone brightly in front of almost every house.